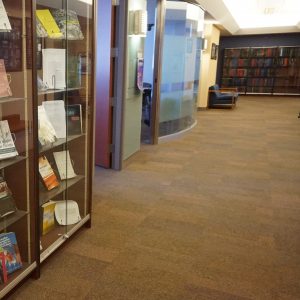 The dissertation is the capstone piece of the PhD education. It represents an independent and original piece of scholarship and demonstrates the doctoral candidate's mastery of both content material and the research process. Doctoral candidates complete their dissertation after finishing coursework, passing their comprehensive exams and receiving approval for their thesis proposal from their dissertation committee.
Students work closely with their PhD supervisor and committee while conducting their PhD research and in writing the dissertation. The final product typically consists of three article-length chapters, an introduction and a conclusion.
We have been awarding doctorates in Sociology since 1963. The following table contains a list of dissertations completed since 2010. Most of the dissertations are available to the public in full text form in the university's data repository T-Space.
| Last Name | First Name | Year Graduated | Dissertation Title |
| --- | --- | --- | --- |
| Abdalrahmanalaraj (Araj) | Bader | 2011 | Harsh State Repression And Suicide Bombing: The Second Palestinian Intifada (Uprising), 2000-05 |
| Abji | Salina | 2017 | Emerging Logics of Citizenship: Activism in Response to Precarious Migration and Gendered Violence in an Era of Securitization |
| Albert | Katelin | 2019 | Technologies of Sexuality: The HPV Vaccine and an Investigation into Parental Responsibility, Progressive Sex-Education, and Adolescent Girls' Subjectivities |
| Alexandrescu | Filip Mihai | 2012 | Human Agency in the Interstices of Structure: Choice and Contingency in the Conflict over Roşia Montană, Romania |
| Armstrong | Paul Alexander | 2013 | Species of Science Studies |
| Badawy | Philip | 2022 | A "Holy Grail" of Work and Family Life? Complicating Schedule Control as a Resource |
| Baker | Jayne | 2013 | Girl Power, Boy Power, Class Power: Class and Gender Reproduction in Elite Single-Gender Private Schools |
| Beglaubter | Judy | 2019 | Negotiating Fathers' Care: Canadian Fathers' Leave-Taking as Conformity and Change |
| Birdsell Bauer | Louise | 2018 | Precarious Professionals: Non-Tenure-Track Faculty in Southern Ontario Universities |
| Blumer | Nadine Veronique | 2011 | From Victim Hierarchies to Memorial Networks: Berlin's Holocaust Memorial to Sinti and Roma Victims of National Socialism |
| Braun | James | 2022 | Local Culture" and the Problem of Coordination: The Case of Jamaica's Diasporic Real Estate Market |
| Cappeliez | Sarah | 2018 | More than just a Fine Drink: Processes of Cultural Translation, Taste Formation and Idealized Consumption in the Wine World |
| Campeau | Holly | 2016 | Policing in Unsettled Times: An Analysis of Culture in the Police Organization |
| Chai | Lei | 2022 | Work-Family Multitasking, Work-Family Conflict, and Health: Three Longitudinal Studies in Canada |
| Chan | Elic | 2014 | Mahjonging Together: Distribution, Financial Capacity, and Activities of Asian Nonprofit Organizations in Canada |
| Cheng | Catherine | 2018 | Intimate Frontiers: Chinese Marriage Migrants and Contested Belonging in Hong Kong and Taiwan |
| Chong | Philipa | 2014 | Understanding Critics: Evaluation from the Perspective of Book Reviewers |
| Chua | Vincent Kynn Hong | 2010 | Social Capital And Inequality In Singapore |
| Cook | Steven | 2017 | Taking It To The Streets: A Comparative Analysis Of Violent Victimization, The Victim-Offender Overlap, And The Victim- Fear Relationship Among School And Street-Involved Youth In Toronto |
| Cote | Rochelle Renee | 2011 | Making Their Way in the Mainstream: Indigenous Entrepreneurs, Social Capital and Performance in Toronto's Marketplace |
| Couture-Carron | Amanda | 2020 | Adolescent Offending: How Growing Up Disadvantaged Matters Across Immigrant Generations |
| Curtis | Josh | 2014 | Class Identification in Modern Democracies: A Comparative Study of its Sources and Effects |
| Dawe | Meghan | 2018 | Stratification in the Canadian Legal Profession: The Role of Social Capital and Social Isolation in Shaping Lawyers' Careers |
| De Laat | Kim | 2017 | The Shape Of Music To Come:Organizational, Ideational, And Creative Change In The North American Music Industry, 1990-2009 |
| Drappeau-Bisson | Marie-Lise | 2022 | Iconicity, Commemoration and Aesthetic Evaluation: The Case of the Reception of Québec's Feminist "Big Book" L'Euguélionne |
| Easton | Mark | 2015 | Gender-Pay Inequality and Organizational Culture: A Multi-Organizational Analysis of Job-Evaluation Data |
| Elrick | Jennifer | 2016 | Family/Class: Race and Third-Order Immigration Policy Change in Post-War Canada |
| Engman | Athena | 2022 | Organ Transplantation and the Variability of 'Embodied' Experience |
| Faruque | Omar | 2019 | Contesting Development: Popular Protests, Nationalist Imaginaries and Energy Politics in Bangladesh |
| Fidler Bruno | Tara Leah | 2012 | Controlled, Encouraged or Adrift? Sources of Variation in Adolescent Substance Use |
| Frederick | Tyler Jarret | 2012 | Deciding How to Get By: Subsistence Choices among Homeless Youth in Toronto |
| Garcia del Moral | Paulina | 2016 | Feminicidio, Transnational Legal Activism and State Responsibility in Mexico |
| Glavin | Paul | 2012 | Perceived Job Insecurity and Health Across the Life Course |
| Hahmann | Tara | 2015 | Contextualizing Unconventional Beliefs And Ritual Activity: A Case Study Of Moderate Risk And Problem Slot Machine Gamblers |
| Harold | Joshua | 2020 | A Genesis of Jewishness: Collective Memory, Identity Work, and Ethnic Boundary Making among Jews in Toronto |
| Hawkins | Naoko Shida | 2014 | Nativity Status and the Relationship between Education and Health: The Role of Work-Related and Psychosocial Resources |
| Hayle | Steven | 2017 | Towards A Sociology Of Harm Reduction: A Comparative Study Of Drug Policy Change In Canada And The United Kingdom Between The Years 1985 and 2017 |
| Ho | Lok See (Loretta) | 2012 | On Cultural Capital: Fine Tuning the Role of Barriers, Timing and Duration of Socialization, and Learning Experiences on Highbrow Musical Participation |
| Hoe | Alice | 2017 | Working in "Bad Jobs": Immigrants in the New Canadian Economy |
| Hoffbauer | Andreas | 2018 | Innovative by Design: How Organizations Can Sustain Continual Innovation in Highly Competitive Markets |
| Innocente | Nathan | 2016 | The Perfect Storm: Institutional and Organizational Antecedents of Title Fraud in Ontario |
| Joly | Marie-Pier | 2017 | Contexts of Exit and the Mental Health and Economic Incorporation of Migrants in Canada |
| Kaida | Lisa (Risa) | 2012 | Pathways to Successful Economic Integration: The Dynamics of Low Income and Low Wages among New Immigrants to Canada |
| Kang | Timothy | 2020 | Partners and Crime: Contemporary Unions and Desistance from Crime During the Transition to Adulthood |
| Kennedy | Tracy Lee Musing | 2011 | Weaving the Home Web: A Canadian Case Study of Internet Domestication |
| Kennedy | Liam | 2015 | "Reflections From Exile": Exploring Prisoner Writings at the Louisiana State Penitentiary |
| Kim | Yang-Sook | 2020 | Competing Subjectivities: A Comparative Study of Low-paid Care Workers in Greater Seoul and Los Angeles Koreatown |
| Klassen | Amy | 2018 | Correctional Officer Training and the Secure Containment of Risk and Dangerousness in a Canadian Provincial Jurisdiction |
| Kolar | Katarina | 2018 | Differentiating the Drug Normalization Framework: A Mixed Methods Investigation of Substance Use among Undergraduate Students in Canada |
| Koltai | Jonathan | 2018 | Socioeconomic Status, Stress Exposure, and Psychological Well-Being: Complexities in the Stress Process |
| Knudson | Sarah Kathryn | 2012 | Cosmo Girls, Cheetah Boys and Creatures Unlike Any Other: Relationship Advice and Social Change in North America |
| Laxer | Emily | 2016 | A Nation's Dilemma: Party Politics and the Production of Nationhood, Belonging and Citizenship in France's Face Veil Debate |
| Lin | Chang Z. | 2022 | Theorizing Dormancy |
| Louie | Patricia | 2020 | Complicating Race in the Study of Mental and Physical Health |
| Maas | Mark van der | 2015 | Sociology and the Problems of Problem Gambling Research: Connecting private troubles to public issues |
| MacKendrick | Norah | 2011 | The Individualization of Risk as Responsibility and Citizenship: A Case Study of Chemical Body Burdens |
| Magnan | Andre Jean Raymond | 2010 | The Canadian Wheat Board and the creative re- constitution of the Canada-UK wheat trade: wheat and bread in food regime history |
| Maiolino | Elise | 2017 | Identity Politicking: New Candidacies and Representations in Contemporary Canadian Politics |
| Majerski | Maria | 2017 | Networks of Mobility and Constraint: The Economic Integration of New Immigrants to Canada |
| McIvor | Mitchell D | 2018 | Student Debt and the University-to-Workforce Transition: The Role of Risk and Socio-Economic Background |
| Miller | Diana | 2016 | Creative Producers and Gender Relations: A Field Analysis of Two Grassroots Music Scenes |
| Milligan | Scott | 2014 | Socially Cohesive Nations: Evidence from the Individual, Community and National Levels |
| Mo | Guang Ying | 2015 | How Does Diversity Impact Innovation in Research Network? A Multilevel Study of the GRAND NCE |
| Montazer | Shirin | 2012 | Country of Origin as a Modifier of the effect of Generation and Length of Residence on the Mental Health Outcomes of Immigrants to Canada |
| Moyser | Melissa | 2015 | How Socioeconomic Status Shapes Individuals' Experiences of the Work-Family Interface in Canada |
| Nagra | Baljit | 2011 | Unequal Citizenship: Being Muslim and Canadian in the Post 9/11 Era |
| Narisada | Atsushi | 2019 | The Social Antecedents and Consequences of the Sense of Distributive Injustice |
| Nault | Jean-Francois | 2021 | Culture and Private School Choice: Uncovering the Cultural Dimensions of School Choice as Action |
| Nevin | Andrew | 2022 | New Directions in Cyber-Criminology: Evaluating Alternative Explanations for Online Deviance |
| Nowak | Joanne | 2016 | Extending the Social Model of Migration and Incorporation to Include Migrant Occupational Communities: The Case of Ghanaian Nurses |
| Oleschuk | Merin | 2020 | Domestic Foodwork in Value and Practice: A Study of Food, Inequality and Health in Family Life |
| O'Neil | Kristie | 2018 | The Relational Economy of Changing Diets: Reframing the Nutrition Transition |
| Patterson | Matt | 2015 | Icons and Identity: A Study of Two Museums and the Battle to Define Toronto |
| Piekosz | Agata | 2016 | Polish Catholic Priests in Canada and Ireland: Migration, Leadership, and the Mobility of Strangers |
| Pikkov | Deanna Lea | 2011 | The Practice of Voting: Immigrant Turnout, the Persistence of Origin Effects, and the Nature, Formation and Transmission of Political Habit |
| Kaitlyn | Quinn | 2021 | "Good intentions pave many roads. Not all of them lead to hell": An investigation of Canadian voluntary organizations' work with criminalized women |
| Quirouette | Marianne | 2017 | Risks, Needs and Reality Checks: Problem Solving Work with Multiply Disadvantaged People in Conflict with the Law |
| Rangel | J. Cristian | 2018 | Reluctant Subjects: The Place of Gay Men in Canadian Media Discourse on HIV |
| Reid | Sarah | 2013 | Women, Work, and Family: Estimating Married Women's Status Achievement over their Careers |
| Rodney | Alexandra | 2017 | Healthy is the New Thin: The Discursive Production of Women's Healthy Living Media |
| Rozad Cain | Kate | 2022 | Spoiled Identity? Exploring Stigma and Reentry following Wrongful Imprisonment |
| Sendroiu | Ioana | 2020 | Managing Crisis: Decision-making, Memory, and Legality in Post-World War Two France and Romania |
| Settels | Jason | 2019 | The Multi-contextual Effects Through Which Environmental Economic Declines Impact Older Persons' Quality of Life |
| Schumann | Rachel | 2020 | Extending Carceral Control Pre-conviction: The Reception, Resistance, and Repercussions of Being Legally Responsible for People Accused of a Crime |
| Shah | Sarah | 2019 | Defining, Refining, and Enacting Religious Reflexivities in Pakistani-Canadian Muslim Families |
| Shen | Jing | 2013 | The Joint Use of Formal and Informal Job Search Methods in China: Institutional Constraints, Working Mechanisms, and Advantages |
| Shvarts | Alexander | 2010 | Elite Entrepreneurs From The Former Soviet Union: How They Made Their Millions |
| Slavina | Anna | 2019 | Repertoires of Political Action: Examining the Role of National Context and Culture |
| Sun | Haosen | 2022 | Social Networks in the Aging Process: Geographical Structure, Support Exchanges and Turnovers in Europe |
| Tian | Siyue | 2016 | Living Arrangements and Intergenerational Support Among Immigrant and Canadian-born Seniors |
| Upenieks | Laura | 2019 | Probing the Religion-health Connection: Integrating Insights from the Life Course Perspective and Social Networks |
| Valleriani | Jenna | 2017 | 'Staking a Claim': Legal and Illegal Cannabis Markets in Canada |
| Weiler | Anelyse | 2020 | The Periphery in the Core: Cider Production, Labour, and Agrarian Livelihoods in the Pacific Northwest |
| Whitehead | Krista Lee | 2013 | Great Expectations: Maternal Ideation, Injustice and Entitlement in the Online Infertility Community |
| Williams | Lawrence | 2019 | Thinking through Dilemmas |
| Wray | Dana | 2022 | How Do Work-Family Policies Shape Parents' Time with Children? |
| Young | Marisa | 2013 | The Impact of Neighbourhood Context on Work-Family Conflict and Psychological Distress |
| Yule | Carolyn Frances | 2010 | Mothering in the Context of Criminalized Women's Lives:Implications for Offending |
| Zhang | Tony | 2017 | Contextual Effects and Support for Liberalism: A Comparative Analysis |