Our PhD students receive an excellent training in research and pedagogy, preparing them for careers in top research and teaching universities. While many also choose to pursue careers outside of the academy, on this page, we feature those students currently seeking positions in universities or colleges.
---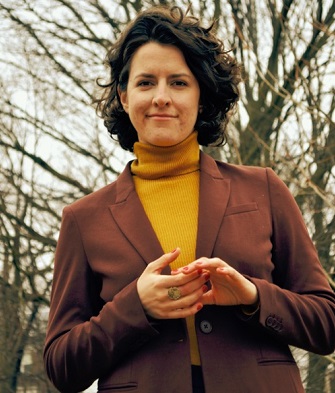 Marie-Lise Drapeau-Bisson
ml.drapeau.bisson@mail.utoronto.ca
Website
Academia.edu
Dissertation Title: Reading, Evaluating and Commemorating Feminism : Excluding and reviving dynamics in the reception of L'Euguélionne in Québec
Dissertation Committee: Judith Taylor (Chair), Shyon Baumann, Josée Johnston
Research and Teaching Areas: Cultural Sociology, Sociology of Arts, Qualitative Methods, Social Movements Studies, Commemoration Studies, Feminist Studies, Québec Studies.
Statement on Teaching and Research Interests:  My work is motivated by a desire to understand how activists innovate to escape erasure. While activists often rely on a well-worn repertoire of tactics for continuity, they need to transform their repertoires to address new issues and renew mobilization. This tension is at the heart of research projects I have undertaken over the past 10 years: from the pots and pans protests in Montreal, to reproductive justice activists in Northern Ireland, to Québec feminists practicing commemorative work to defy the invisibilisation of the movement's cultural production.
My work puts in conversation literatures that, despite important consonances, are not in dialogue due to disciplinary or linguistic boundaries. In my teaching, this bridging work broadens students' horizons and helps them develop critical thinking skills. I also help students to develop concrete job market skills through assignments that borrow from various genres, from peer feedback, to letter writing, to project proposals. You can learn more about my current research and teaching interests by visiting my website.
Publications:
---
Gordon Brett
gordon.brett@mail.utoronto.ca
Website
News
Dissertation Title: The Embodied Dimensions of Creativity
Dissertation Committee: Vanina Leschziner (Chair), Dan Silver, Ann Mullen
Research and Teaching Areas: Culture, Cognition, Creativity, Theory, Sociological Social Psychology.
Statement on teaching and research interests: Gordon's research examines how cognitive processes and social and cultural life interrelate. This includes examining how cognition shapes creativity and human behavior in social contexts, how people develop patterns of thought and action, and how the cognitive sciences can improve sociological theory and research. His dissertation, The Embodied Dimensions of Creativity, examines how improvisational theatre troupes collaboratively create new jokes, characters, stories, and scenes in real-time, drawing on interview and observational data with experienced improvisers from the Toronto improv scene. From this data, He develops an account of how creativity emerges out of interactions between cognitive processes, corporeal and material states and conditions, and the social and cultural environment. His research is published in Sociological Science, Poetics, Social Psychology Quarterly, Sociological Forum, and Journal for the Theory of Social Behaviour.
---
Miloš Broćić
milos.brocic@mail.utoronto.ca
Academia.edu
News
Dissertation Title: The Social Bases of Moralized Politics (expected spring 2022)
Committee: Daniel Silver (chair), Jack Veugelers, Andrew Miles
Research and Teaching Areas: political sociology, culture, sociological theory
Milos Brocic is a PhD Candidate in Sociology at the University of Toronto. His research interests are in the fields of political sociology, moral culture, and sociological theory. His dissertation project, "The Social Bases of Moralized Politics", examines socializing processes that draw individuals towards moralized politics, focusing on the transition from adolescence into young adulthood. This includes 1) assessing alienation's role in shaping motivations for radical movements, and 2) higher education's role in shaping moral divisions behind the 'culture wars.'  In this work and others, Milos reevaluates classic sociological insights with modern techniques of data analysis, engaging timely issues with a perspective both old and new. This builds on a general interest in charting sociology's intellectual movements, which comes to a head in work documenting the legacy of Georg Simmel.
Publications:
---
Noga Keidar
Dissertation title: The Making of Urban Knowledge: Ideas, Cities, Gurus
Dissertation committee: Dan Silver (Chair), Mark Fox, John Hannigan
Research and teaching areas: Urban Sociology, Political Socioloy, Sociology of Ideas, Immigration, Race and Ethnicity
In her research, Noga examines what it means for a messy and complex entity like a city to adopt a new idea, and how particular ideas have become 'must-haves' for cities. Her different research projects touch upon these issues from different angles, asking, for instance: How do urban models become relevant when placed in a context extremely different from the one in which they were formulated?  How does the 'same' idea vary over time and across geographical scales? How have a small group of charismatic urban thinkers established their position as urban 'gurus'? And how in practice do they connect cities with ideas? Noga examines these questions using multiple qualitative and quantitative methods. Noga is currently an Azrieli postdoctoral fellow in the Department of Sociology and Anthropology at the Hebrew University of Jerusalem, where she also teaches Urban Sociology and works as the Deputy Director and Head of Research of the "Urban Clinic". 
Publications:
Making Jerusalem "Cooler": Creative Script, Youth Flight, and Diversity
---
James Lannigan
james.lannigan@mail.utoronto.ca
News
Dissertation title: "Discourse and structure: An examination of the organizational identities and networks of contemporary specialty coffee retailers"
Dissertation committee: Bonnie Erickson (supervisor), Clayton Childress, Josée Johnston
Research and teaching areas: Social Research Methods, Sociology of Culture, Social Networks, Urban Sociology
James Lannigan is a PhD candidate enrolled in the Sociology department at the University of Toronto. His current research and teaching interests lie at the intersection of the Sociology of Culture, Social Networks, and Urban Sociology. His dissertation work focuses on the networks of specialty coffee retailers paying close attention to the development of distinct identity-making practices and their contemporary adaptation to challenges in the marketplace from chain competition. As a result of the COVID-19 pandemic, James has been recently focusing on how this population has adapted their organizational practices to deal with uncertainties facing the niche as a whole.
Publications:
Lannigan, J. (2020). Making a space for taste: Context and discourse in the specialty coffee scene. International Journal of Information Management, 51, 101987.
Gruzd, A., Lannigan, J., & Quigley, K. (2018). Examining government cross-platform engagement in social media: Instagram vs Twitter and the big lift project. Government Information Quarterly, 35(4), 579-587.
Lannigan, J. (2017, July). Branding practices in the new (Er) media: a comparison of retailer twitter and web-based images. In Proceedings of the 8th International Conference on Social Media & Society (pp. 1-5).
Klein, M., Gruzd, A., & Lannigan, J. (2017). Using Deliberation-Centric Social Network Analysis to Measure Balkanization. Available at SSRN 2914554.
Lannigan, J., & McLaughlin, N. (2017). Professors and politics: Noam Chomsky's contested reputation in the United States and Canada. Theory and Society, 46(3), 177-199.
---
Martin Lukk
martin.lukk@mail.utoronto.ca
Website
Dissertation title: The Distributional Question in Contemporary Nationalism
Dissertation committee: Erik Schneiderhan, Geoffrey Wodtke (co-chair, U. Chicago), David Pettinicchio, Vanina Leschziner
Research and teaching areas: Political Sociology, Inequality and Stratification, Social Policy, Health and Illness, Race and Ethnicity
Statement on teaching and research interests: I study the political consequences of economic inequality. The dramatic growth in income and wealth inequality in industrialized countries is among the major social and economic developments of the postwar era. My research examines the individual consequences of this and related transformations in three areas: political identity, voting behavior, and social welfare. I am particularly interested in how income inequality shapes conceptions about legitimate membership in the nation; how attitudes about the nation affect support for radical-right parties; and how novel digital solutions to financing individual health care needs reproduce economic inequality. I study these issues primarily using quantitative analyses of survey data and computational approaches to data collection and analysis. My scholarship contributes to research in multiple areas, including political sociology, inequality and stratification, social policy, health and illness, and race and ethnicity. At the core of my work is an effort to understand how long-term structural changes shape individuals' political lives in today's democratic societies, including decisions about how to identify, vote, and get help in times of need. I am author of the forthcoming book GoFailMe: Digital Philanthropy and the Politics of Social Welfare (Stanford University Press, 2023), written with Erik Schneiderhan.
---
Fernando Calderón Figueroa
f.calderonfigueroa@mail.utoronto.ca
Website
Dissertation title: The Spatial Context of Civic Engagement
Committee: Daniel Silver (chair), Luisa Farah Schwartzman, Angelina Grigoryeva
Research and Teaching Areas: Urban Sociology, Policy, Quantitative Methods, Computational Social Science, Sociological Theory
Statement on teaching and research interests: I am interested in the relationship between urban change, social solidarity, and policy. My research expands over three areas: (1) the impact of urban design and social infrastructure on communities, (2) urban politics and policy, and (3) the evolution of neighbourhoods. My work uses traditional quantitative and qualitative methods in combination with novel spatial and computational techniques. In my dissertation, I investigate the reciprocal effect between changes in the built environment and community development in Canadian and Peruvian cities. I shed light on how government officials and citizens enhance inequality by impacting the urban space, both the built environment and the local social milieu. My dissertation bridges urban sociology's insights onto three other subfields of the discipline: social capital, group boundaries, and social policy.
Publications: