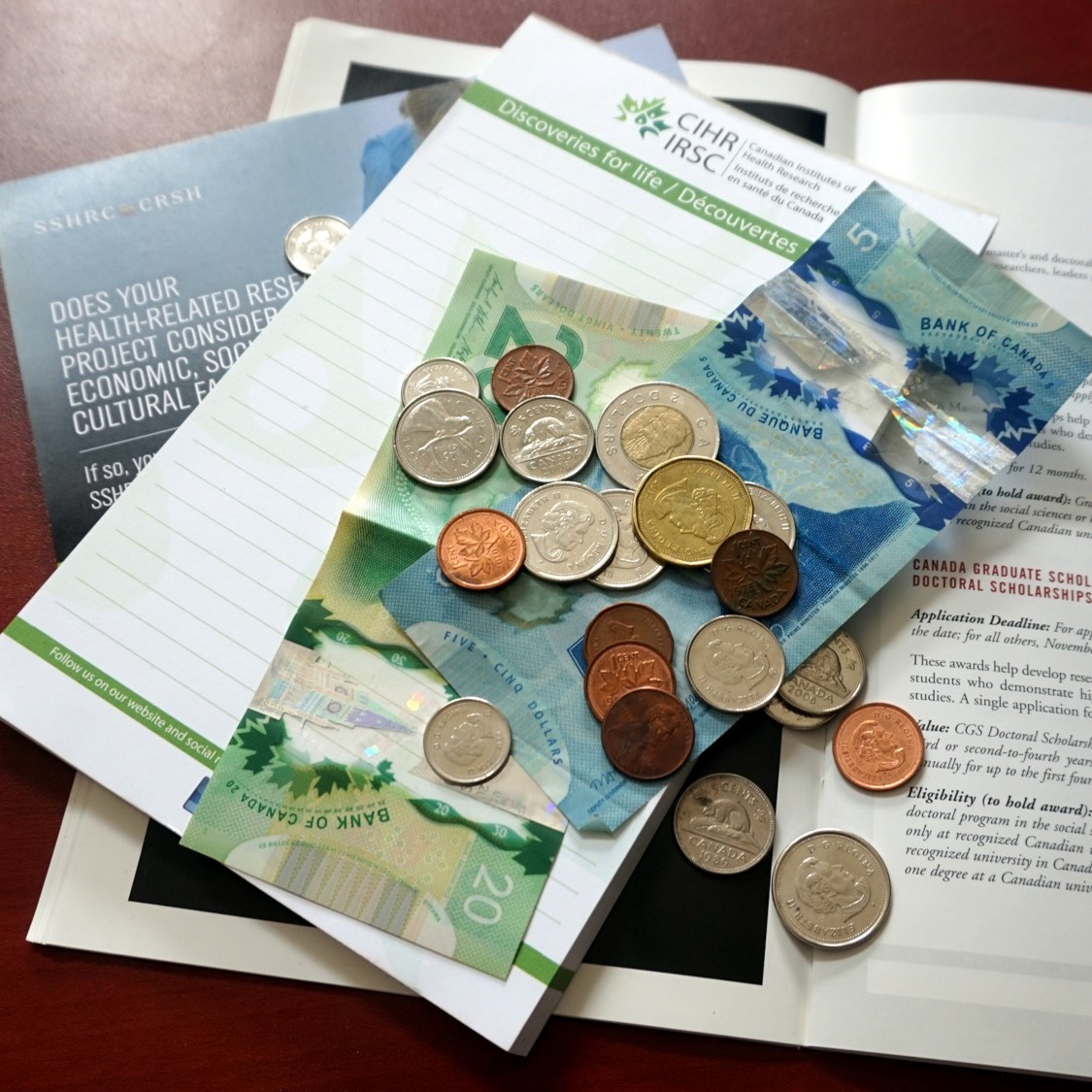 Admission Awards | Fellowships and Scholarships | Research and Travel Funds | Need-based Funding | Graduate Department Awards
Fees
The School of Graduate Studies publishes an annual schedule of fees in June. Please consult the SGS Tuition and Fees page for the up-to-date schedule.
Financial Assistance and Funding Opportunities
The Faculty of Arts & Science has instituted a base funding package that covers MA students in their one year program, and PhD students for four or five years (depending on whether the student enters directly from a BA, or completes an MA before entering the program). This multi-year PhD base funding is intended to cover the period in which the student is engaged in fulfilling the major requirements of the program: course work, area research, thesis research and writing. The total funding package for the 2022-23 academic year is equal to tuition + $19,000 and is met by a balance of three components: I) the U of T Fellowship, ii) Teaching Assistantships (TA), and iii) Research Assistantships (RA). Students who do not complete their degree by their final year of funding may be eligible for TA-ships in subsequent years. TA assignments are subject to the subsequent appointment provisions of the Collective Agreement that covers TAs.
The funding package is provided with the provisions that the student makes satisfactory progress through the program and that those without external funding apply for funding from the major provincial and federal funding agencies: OGS, SSHRC or CIHR. While receiving external funding may eliminate the U of T Fellowship portion of the funding package, the external fellowships typically provide more funding and carry with them more prestige than the internal funding package.
---
Admission Awards
The Department of Sociology offers a range of admission awards based on academic excellence. Students are not required to apply for admission awards; these awards are granted upon admission based on reviews from the Graduate Admissions Committee. Below is a list of current awards for incoming PhD students:
S.D. Clarke Fellowship (award amount varies)
Faculty Legacy Scholarship Fund (award amount varies; student must be full-time graduating student enrolled in a Sociology major or specialist)
Dennis William Magill Scholarship in Canadian Society (award amount varies; student expected to write dissertation on an aspect of Canadian society)
Raymond Breton Graduate Scholarship (award amount varies)
Ann Sorenson Scholarship (award amount varies)
Sociology Merit Award (award amount varies)
Faculty of Arts & Science Domestic Graduate Entrance Award (award amount varies)
Faculty of Arts & Science Alumni and Friend Graduate Scholarship (award amount varies)
Faculty of Arts & Science Doctoral Recruitment Award (award amount varies)
Faculty of Arts & Science Recognition of Excellence Award (award amount varies)
Faculty of Arts & Science Top (FAST) Doctoral Fellowship ($22,500 per year, plus tuition and fees, for the first four years of the PhD program)
Graduate Distinction Scholarship
Beginning in 2022, the department will be offering a $10,000 Admission Award for an incoming domestic or international PhD student of high academic merit and who identify as Black or Indigenous. The Graduate Distinction Scholarship is part of our department's collective effort to attract and support BIPOC students and to increase the diversity of our PhD program.
View More Graduate Department Awards
---
Fellowships and Scholarships
Both the Province of Ontario and the federal government, through the Tri-Agency (SSHRC, CIHR and NSERC), provide funding to support outstanding students in Masters and PhD programs. Many of our students receive multiple years of funding from the Ontario Graduate Scholarship (OGS) and from SSHRC or CIHR. Students should also check the SGS funding database for opportunities that may fit their particular needs or that are designed for specific research areas. Both the department and SGS offer training to help students develop their proposal-writing skills.
Ontario Graduate Scholarships (OGS)
The OGS is available to both Masters and PhD applicants and provides $5,000 per session for 2 or 3 consecutive sessions. Each award can be one or two years, with the maximum number of awards per individual set at 2 years for Masters' students and 6 for PhD students. Both domestic and international students are eligible for OGS awards but submit according to the different deadlines.
We encourage applicants to our program to apply to OGS. Those applying to multiple Ontario institutions need to submit an OGS application to each institution for which they are seeking admission since the first stage of the competition occurs through a departmental competition.  Students already enrolled in 1 through 4 of the PhD program must apply to OGS as per the terms of their funding package.  The Sociology committee adjudicates the domestic awards and selects a shortlist of international student applications for adjudication by a committee of the School of Graduate Studies. A top OGS recipient in Sociology is also presented the Edie Yolles/OGS in the Department of Sociology. Applications due early March. Exact dates are sent out in an Award Announcement to all students. Applicants must apply online through the SGS website. All supporting documents are to be submitted online. For more, please visit the OGS page on the SGS website.
Social Sciences and Humanities Research Council (SSHRC) and Canada Institutes of Health Research (CIHR)
SSHRC's Talent portfolio includes separate competitions for a Master's Scholarship and for a Doctoral Fellowship.  Most students apply for funding through SSHRC's programs but those students interested in health or medical sociology may consider the CIHR program if they plan to study with a health researcher and expect health outcomes from their research program. Note, however, that SSHRC also supports health-related research as long as "the intended outcome of the research must primarily be to add to our understanding and knowledge of individuals, groups and societies—what we think, how we live, and how we interact with each other and the world around us."
MA students should apply to the Canada Graduate Scholarships - Master's Program in the fall before they are admitted to the program. The Canadian Graduate Scholarship's Program – Master's Program is available for students who are Canadian citizen or landed immigrants applying to or registering in an M.A. program in the social sciences and humanities at Canadian universities. The scholarship is worth $17,500 for a 12 month period and is not renewable.  Applications are due December 1.  Please see more information on the NSERC website. Apply online through the Tri-Agency's Research Portal.
PhD students studying at the University of Toronto who are Canadian citizens or landed immigrants are eligible to apply for both the Joseph-Armand Bombardier Canada Graduate Scholarship and the SSHRC Doctoral Fellowship through a single SSHRC application. The Joseph-Armand Bombardier Canada Graduate Scholarship provides $35,000 per year for 36 months, and the SSHRC Doctoral Fellowship provides $20,000 per year for up to 48 months. Some students may also be eligible for the Aileen D. Ross supplement and should be aware of this option when applying. The Sociology Department requires that all non-visa students who are already enrolled in a graduate program at the University of Toronto apply for a SSHRC Fellowship (provided they are eligible to do so), as per the conditions of their funding package.
Incoming students who are enrolled in a Canadian university in the fall prior to the beginning of their doctoral program will normally apply through their current university (even if this is not the University of Toronto) and should check with their institutions for internal deadlines. Students not enrolled in a program, apply directly to SSHRC. Students enrolled at the University of Toronto need to submit their applications and all supporting documents online through the SSHRC online portal by mid September. Exact dates are sent out in an Award Announcement to all students. More information is available on the SSHRC website.
PhD students who are Canadian citizens or landed immigrants and whose research falls within CIHR's mandate may consider applying to the Frederick Banting and Charles Best Canada Graduate Scholarship - Doctoral Award. This award provides $30,000 as a trainee stipend and $5,000 as a research allowance per year for up to four years. Students may not submit to both SSHRC and CIHR doctoral programs in the same year.  Students applying to this program should complete the ResearchNet application and provide the graduate office with a hard copy of the final application. Applications are due at the beginning of October.
Vanier Canada Graduate Scholarships
Both domestic and international students may apply to the Vanier program for doctoral funding.  The Vanier scholarship provides $50,000 per year for three years. Students are eligible if they are pursuing their first doctoral degree, have completed no more than 20 months of doctoral studies as of May 1st of the year they are applying, have achieved at least A- in each of the last two years of study and have not already received a doctoral fellowship from SSHRC or CIHR. The departmental deadline is early September. Exact dates are sent out in an Award Announcement to all students. More information about applying is available on the SGS website's Vanier Scholarship page.
---
Research and Travel Funds
The department administers four travel funds for graduate student research or conference attendance.  The Norman Bell Research Award supports students with expenses for field research. The Muriel D. Bissell Award provides funding for graduate students who are strongly committed to research on the problems of development in low and middle income countries. The recipient will ordinarily, but not necessarily, be from a developing country. Funds will be used to pay costs of research such as travel and subsistence for data collection, special training (off-campus), and/or the costs of professional development, such as travel to conferences where the recipient is presenting a paper. Awardees must be compliant with all departmental and U of T Safety Abroad procedures prior to travel. In all cases, awards must be spent within 12 months of the award and original receipts and travel documents must be provided within 30 days after the travel has occurred. If you are interested in applying for this award, please complete the 

Bissel Award Application (PDF) and provide all necessary documents to sociology.graduate@utoronto.ca by May 31.
Sociology Departmental Travel Grants: Registered students should fill out and submit their 

Departmental Travel Grant Application Form (PDF) with the required documentation to the department's graduate office within 6 weeks of the conference. All registered students are guaranteed funding (at a maximum of $1000 CAD per conference) If they are presenting at the Canadian Sociological Association (CSA) OR the American Sociological Association (ASA). For all other conferences, we require a short (1-2 paragraph) explanation of how attending the conference will benefit your academic and research goals, and written approval from your supervisor confirming that they have recommended you to present your research at said conference along with a short (1-2 paragraph) justification. An email notification sent to sociology.graduate@utoronto.ca of this recommendation will suffice. Please note that reimbursements are restricted only to travel costs (transportation, accommodation, meals, registration fees and membership fees).
Graduate students who are not in good academic standing are not eligible to apply for the departmental travel grant.
Policy for students sharing costs such as accommodation, meals, or ground travel: The person paying for the full amount will submit the itemized and payment receipt which will show how many people shared the expense. The total amount will then be divided by the number of people sharing the accommodation/meal/ground travel. The ones reimbursing the payee for the cost and requesting reimbursement from the department will need to show either a copy of the cheque or e-transfer showing the amount paid for their portion of the accommodation/meal/ground travel. If this is not presented, then you will not get reimbursed for that item.
MA students are only eligible to apply for CSA and ASA conference grant funding contingent on them continuing in PhD program in Sociology at U of T.
All requests must be made in CAD dollars.
Travel funding amounts are subject to change per fiscal year.
Conference funding is intended for non-local conferences. Only registration fees are reimbursable for approved conferences within the GTA. Students may also wish to apply to the SGS Research Travel Grant, the SGS Conference Grant, the Michael Smith Foreign Study supplement for students holding particular Tri-Council awards, or the MTACS Globalink Research Award for students seeking a training period with a professor at an institution in Brazil, China, France, India, Korea, Mexico or Tunisia. For a more complete list of research travel grants and awards, please visit the School of Graduate Studies' funding opportunities database.
---
Funding based on Financial Need
University of Toronto Doctoral Completion Award (DCA)
Students outside of the funded cohort, but within the time-limit for their degree may apply for a Sociology Doctoral Completion Award. The Doctoral Completion Award (DCA) seeks to help ensure that meritorious PhD students who are no longer receiving the U of T funding package from their graduate unit can complete their degree program within time limit. The award is competitive. Criteria include: academic merit and quality of research, the availability of alternative funding, and, if appropriate, special features of the research program that require more time than usual. To be eligible, students must:
be registered full-time in the Department of Sociology
be entering year 5 or 6 of the program (6 or 7 for direct-entry students)
be no longer receiving the U of T funding package
have achieved candidacy and have satisfactory progress reports
not hold a paid, continuing professional position
The value of the award depends upon the number applicants and financial need.  Students apply by submitting a hard copy of the DCA Application Form, ROSI transcript printout, and OSOTF Form to the Sociology Graduate Office by July 31st. Late applications will not be accepted. Students who receive the award need to be registers and will not receive further payments once the degree requirements are completed. Recipients will find the payments applied directly to their student account in September or January, directed first to any outstanding balance in the account.
Bursaries
The School of Graduate Studies has established a Bursary Fund to help students meet financial emergencies. More information is available on the SGS website.