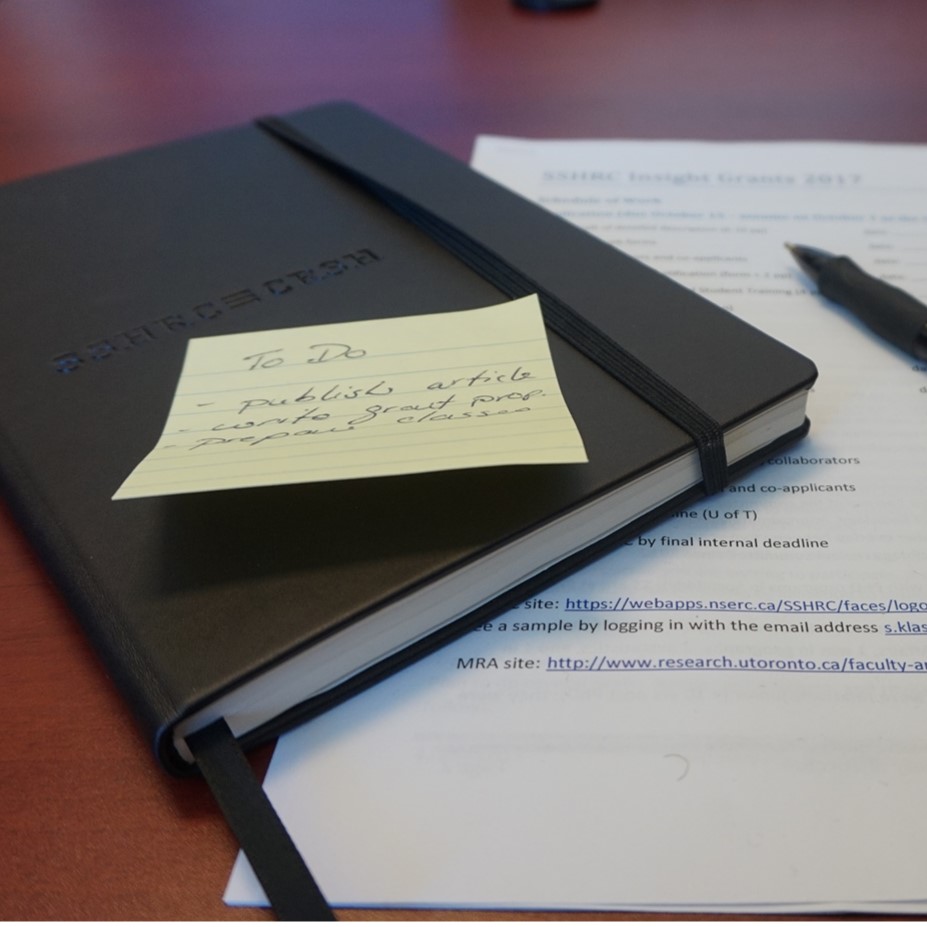 Application Timeline
The Department of Sociology encourages domestic and international students to apply for graduate study. As an academic community that strives to be welcoming and inclusive, we especially encourage students historically underrepresented in sociology to apply. Please see our Funding page for more information about the Graduate Distinction Scholarship, which beginning in the 2022/2023 academic year, is available to incoming Black and Indigenous Students.
We hope the following information facilitates the application process.
Applicants interested in applying to one of the Sociology graduate programs need to complete the application page on the online admissions application system and pay the application fee by December 1st. Applicants have until December 15th (11:59 PM EST) to upload all supporting documents including two reference letters of support. Along with the online application form, the application includes the following application materials: 2 academic letters of reference, one 10-25 page writing sample, a 1-page statement of interest, academic transcripts, a curriculum vitae, and English language proficiency scores (if relevant). Students are also welcome (though not required) to submit a 1-page personal statement that provides additional information on their personal background.
The Sociology Department Admissions Committee, comprised of the Associate Chair for Graduate Studies (Prof. Vanina Leschziner) and four faculty members representing different areas in the department (2022: Profs Berry, Dinovitzer, Mullen, Levi, Liu), reviews the complete files of all applicants and admits the ones with the most outstanding records and potential to thrive in our department, recognizing that some applicants have had fewer opportunities than others to demonstrate their potential.
The committee bases its decisions primarily on the applicant's academic record, the strength of support in the letters of recommendation, the quality of writing sample, and the statement of interest. The committee also considers the applicant's lived experience and potential to enhance our department's diversity as supplementary considerations. Applicants are not required to submit GRE scores, the committee will not take them into consideration for admissions. The committee pays particular attention to the statement of interest to determine whether the applicant will find adequate support and supervision from faculty members given their research interests and the department's strengths.
Applicants educated at non-Canadian institutions should note that their educational background will be assessed for equivalency with a University of Toronto degree. Unfortunately the Department of Sociology does not have the resources to pre-screen applications. Please consult the International Degree Equivalencies Chart to determine if your international degree is considered equivalent. More information is available at the School of Graduate Studies (SGS) Admissions Information page.
Application Timeline
Between October 1 and December 1
On October 1st, The School of Graduate Studies opens the admission period. Applicants should register and familiarize themselves with the online application and required documents. Over the fall, students should draft their statement of interest, seek out faculty members to serve as referees, prepare their cv's, and choose their writing sample(s) and construct their personal statement (optional). International students should look into the degree equivalency and take language testing as appropriate.
Applicants must pay the application fee once all materials are uploaded. Once the application fee has been paid, you cannot make any changes to your application and once documents have been submitted online no further changes can be made to those documents. If you have discovered an error in the document that you have uploaded, please contact the Graduate Office. At this point, your application should be listed as "Documents Pending."
Between December 1 and December 15
Once the application fee is paid, the online system will generate an email request to your referees for their letters. Stay in contact with your referees. If they do not receive an email, advise them to  check their 'junk mail folder' and ensure that they do not have a 'pop up blocker' installed, as this email may be incorrectly identified as spam. If they still do not receive an email request, please contact socgrad.assist@utoronto.ca to request that another e-mail request be sent to your referee.
Even after your referees have uploaded their letters, your online application will still say "documents pending" until the department manually changes this sometime in January. The department does not confirm receipt of applications but if the online system shows that the materials are uploaded, you can be assured that they are there.
Between February and May
By mid-February, the department will have a short list of candidates for admission and will contact these applicants for copies of their official transcripts.
We normally begin sending out offers in February and continue through March. Once you have been admitted, we invite you to visit the department (virtually during the COVID-19 pandemic) to meet the faculty, graduate administrators and some of the graduate students who are already in the program. We are available at that point to address questions you might have about the program. All applicants will be able to check the status of their application in the online admission system by the end of February. We ask that you respond to our offer of admission in a timely manner in consideration of other shortlisted applicants.
| Frequently Queried Topics | Where To Find Information |
| --- | --- |
| Application Method: | Online: the School of Graduate Studies (SGS) Admissions Guide and the SGS Online Application |
| Application Fee: | $125.00 CDN |
| Available Programs: | Master of Arts (M.A.) and Doctor of Philosophy (Ph.D.) |
| Fields of Study: | See our Areas of Specialty |
| Collaborative Programs: | The Department of Sociology is involved in ten (10) collaborative programs. |
| Graduate Faculty: | Faculty at all three (3) campuses participate fully in the Sociology Graduate Program. Cross Appointments, Sociologists in other departments and Professors Emeriti may sit on Graduate Committees, but cannot serve as Graduate Supervisors. For information about these faculty members, please visit the the Faculty List. |
| Admissions Links: | School of Graduate Studies (SGS) Admissions Guide; Online Application |
Application Materials
Supporting Documents
Please note that all supporting documents, including letters of recommendation and transcript of grades, are submitted online. Admission decisions are based primarily on academic qualifications and indications of program fit. We also take account of applicants' personal background information, with an eye to how different life experiences and personal characteristics may enrich graduate study in Sociology and contribute to departmental diversity.
Once you have paid the application fee, you should upload the following supporting documents  to your application:
Academic Letters of Reference
We require two (2) letters of reference from instructors or research supervisors. Reference letters are independently written by faculty. Once payment has been made, your referees will receive an electronic invitation, directing them to an online form, where they can submit their reference letter. For this reason, it is important that you provide an up-to-date institutional email address for your referees in the online application form.
You should ask for letters of reference from people who are in a position to comment on your likelihood to succeed in graduate school. Usually, the best people to do this are faculty members who have taught you sociology or supervised your research. Occasionally, a non-academic referee can also provide a valuable reference letter when the writer can extrapolate how the outcome provides a demonstration of your writing/research ability and/or your ability to be successful in a graduate program in Sociology.
Applicant Information Survey and Form
Applicants should complete the survey as instructed on the Online Admissions Application system. After an applicant completes the survey, the online system will not automatically register this requirement as "complete/submitted". You may upload a copy of the survey, or the 

Applicant Information Form (DOCX) in order for the system to register that you have submitted this information. Alternatively, you can wait for the Graduate Office to review your survey results and then manually switch the requirement to "complete/submitted offline". If you choose to wait, you can expect the results to be updated within 7-10 business days.
Writing Sample
Applicants should upload a paper (10-25 pages, including summary) which they feel represents their best work. The sample should be double-spaced and original (i.e., of your own authorship) in a subject relevant to the field of Sociology. A combination of two smaller papers is permitted in order to meet the minimum requirement. If you submit a sample that is longer the 25 pages, the committee is not guaranteed to read past the 25th page.
Letter of Intent
The typed statement of interest (no more than one single-spaced page) should articulate research interests and outline a prospective research agenda while pursuing graduate study. Successful applications connect these themes to the University of Toronto Sociology Department, showing why this program is the right fit for your research interests and career goals. PhD applicants, in particular, should refer to scholarly literature related to their research question or topic and make reference to relevant University of Toronto faculty whom they would like to work. If your degree was in a discipline other than Sociology, it is helpful to explain in your statement of interest the relevance of your coursework and prior training to the study of Sociology.
Academic Transcripts
All applicants must upload one electronic or scanned transcript from each post-secondary institution attended. The transcripts do not need to be official transcripts; they can be scans of academic results or "issued to student" transcripts (along with legend or grading guide) from all post-secondary institutions attended. Scanned copies of transcripts must be up to date and must include the "legend" which is usually printed on the back of the paper transcript. Please ensure the file is complete and readable before submitting. We ask that applicants who attended universities outside North America provide notarized English translations to accompany all foreign documentation not written in English.
Applicants do not need to upload official transcripts, however, the department will contact students who are short-listed for admission and request official transcripts at that time.
Curriculum Vitae (CV)
Applicants are required to submit a CV. Include any relevant experience on the CV, including publications or other academic contributions.
English Language Proficiency Scores (if applicable)
Applicants educated outside Canada whose primary language is not English must demonstrate their facility in English by completing one of the English tests that the School of Graduate Studies recognizes. Applicants must list their scores on their online application while also sending official results directly to the  University.  The Department of Sociology adheres to the School of Graduate Study minimum requirements for proficiency and relies on the School of Graduate Studies to assess all non-standard cases.
We prefer applicants to have completed this requirement prior to application but will sometimes admit students without the scores. The School of Graduate Studies does, however, require evidence of attaining a satisfactory score by the time of registering and will not allow students to register without it. The TOEFL is just one of the many tests that we accept. For more information, including minimum required scores, please see the
English Language Proficiency Testing page on the School of Graduate Studies web page
.
Applicants who completed programs of study at universities in the following countries are not required to provide proof of English language proficiency: Australia, Barbados, Botswana, Ghana, Guyana, Hong Kong (except Chinese University of Hong Kong), Ireland, Jamaica, Kenya, Lesotho, Liberia, Malawi, Malta, Namibia, New Zealand, Nigeria, Papa New Guinea, Sierra Leone, Singapore, South Africa, Swaziland, Tanzania, Trinidad and Tobago, Uganda, United Kingdom, United States of America, Zambia and Zimbabwe. Applicants who are not from one of the above countries but who completed a program of study at a university where the language of instruction and examination was in English should make arrangements for an official statement to be sent from their institution confirming the use of English as the language of instruction and examination.
Personal Statement (optional)
Applicants have the option of providing extra information about their lived experience that would help the committee understand why they intend to pursue graduate study in Sociology. For example, students may elect to disclose demographic or other personal characteristics that have influenced their academic path or that shape their academic goals. They may also describe hardships that they have overcome and that inform their research interests. Material from the personal statement will also help identify how the applicant may contribute to the diversity of the department. This document should be no longer than one single-spaced page.
Application Fee Waivers
The Department of Sociology offers a limited number of application fee waivers for qualified students. Applicants for whom the $125 application fee required by the School of Graduate Studies would be financially burdensome are eligible for the application fee waiver, including domestic and international applicants. Our fee waiver program is aimed at reducing barriers to application and encouraging students from a diverse range of backgrounds to consider our program.
To request a fee waiver, please submit your CV and a copy of the School of Graduate Studies Financial Need Assessment Form (PDF) to socgrad.assist@utoronto.ca. Please indicate whether you are a domestic or international applicant. Requests for fee waivers must be received by November 15, 2021, and you will receive a response to your request no later than November 30.
Support from the School of Graduate Studies
Although we do not offer advising to applicants at the department level, the School of Graduate Studies offers a number of services to help potential applicants.
FAQs
Have your questions answered through the online FAQ page that answers applicants' questions. If the answer to a particular question is not available, a special form is provided to an applicant for a personalized answer from School of Graduate Studies admissions staff.
Information Sessions
The School of Graduate Studies hosts Information Sessions on "Applying to Graduate School at University of Toronto" each fall.  Please have a look at our 'Departmental Events' page on the website for dates/times. These events are a great opportunity for prospective students to learn about the application process, financial aid opportunities, and timetable for applying to graduate school.
Further Tips
For further tips, please visit the School of Graduate Studies web page.