Ali Greey, MSc., a Ph.D. Candidate at the University of Toronto, has been recognized with the prestigious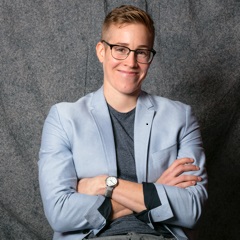 Vivienne Poy Chancellor's Fellowship in the Humanities and Social Sciences. This significant award not only accentuates Greey's academic excellence but also pays tribute to their unwavering commitment to the betterment of society through research. Greey's distinguished academic profile also includes the 2022-23 Connaught Ph.D. for Public Impact Fellowship and the SSHRC Joseph-Armand Bombardier Canada Graduate Studies - Doctoral Scholar Award.
This fellowship, awarded annually to one exceptional domestic Master's or Ph.D. student, is a testament to scholarly distinction, in line with the Ontario Student Opportunity Trust Fund (OSOTF) requirements. Carrying a considerable value of $40,000, the Fellowship serves as a supportive pillar for scholars conducting impactful research in the domains of humanities and social sciences. Crafted in the honor of Dr. Vivienne Poy, this fellowship represents more than an academic distinction. It epitomizes an embodiment of diligence, intellectual strength, and societal betterment— virtues that Dr. Poy has championed tirelessly throughout her multifaceted career. Dr. Poy's indelible legacy embraces a diverse range of roles, including an author, entrepreneur, historian, fashion designer, and a compelling public speaker. Her relentless advocacy for gender issues, multiculturalism, immigration, and human rights has profoundly influenced Canadian society. Dr. Poy's history-making appointment in 1998 as the first senator of Asian heritage is marked by her groundbreaking initiative to establish May as Asian Heritage Month across Canada and her determined efforts to weave inclusivity into our National Anthem. However, her contributions stretch beyond her illustrious Senate career. Even in retirement, Dr. Poy actively contributes to academia and community initiatives, enhancing lives nationwide. Her commitment to education reverberates through her tenure as the University of Toronto's Chancellor Emerita and the multitude of honorary degrees she has gathered. Consistently propelling intellectual growth, Dr. Poy has catalyzed numerous scholarships and endowments, thereby enriching various disciplines.
"As a lifelong student myself, it has always been one of my passions to promote and strengthen higher education. I'm glad to have volunteered with so many universities over the years—and had the privilege to meet so many bright, aspiring young people along the way."

- Hon. Dr. Vivienne Poy
The Vivienne Poy Chancellor's Fellowship mirrors this ethos by acknowledging audacious scholars who are ceaseless in their pursuit of knowledge. It acts as a guiding light, steering research in humanities and social sciences towards groundbreaking innovation in alignment with the University of Toronto's commitment to pioneering academic inquiry. The conferment of this fellowship upon Ali Greey signals more than an acknowledgement of their scholarly accomplishments; it entrusts them with the responsibility of carrying forward Dr. Poy's legacy of passionate advocacy. 
We extend our heartfelt congratulations to Ali Greey for this distinguished recognition. 
Tags