Our PhD graduates practice Sociology in Canada and around the world
We've had 308 PhD graduates since 1978.  Of those we can find data for, 73% of all of our graduates are (or were until retirement) pursuing academic careers in tenure track positions.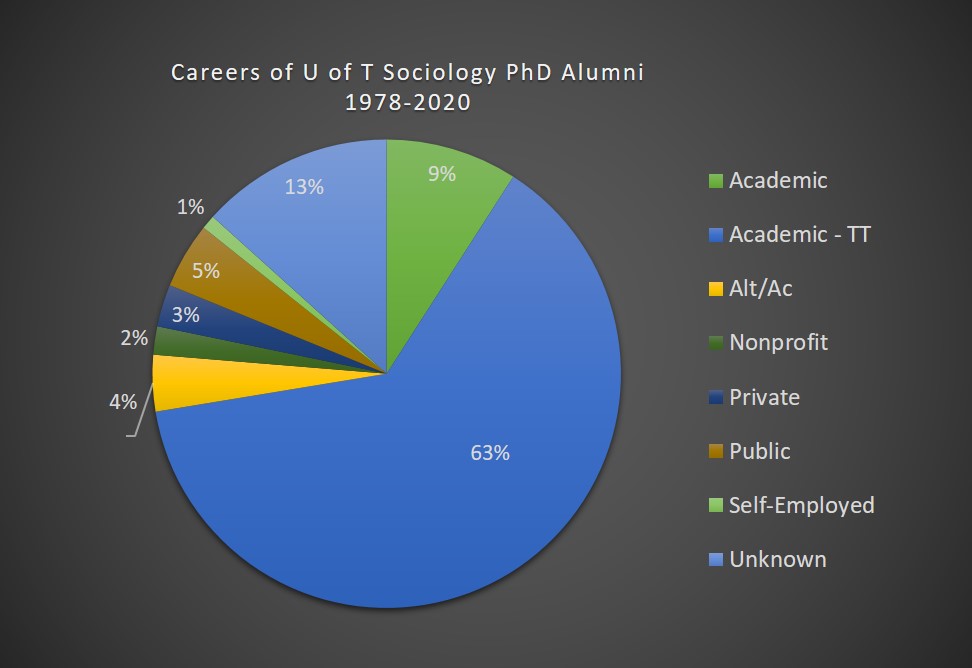 The vast majority of our PhD alumni are or have been employed in Canadian Universities — 137 of our graduates (71% of all of them in tenure stream positions) have posts in Canada. In fact,  every Canadian university with a PhD program has at least one of our PhD graduates on faculty. Almost half of those are clustered southern Ontario, suggesting that our graduate students develop roots to this part of the world and are happy to stay in the region. The others are spread across the country representing U of T in all regions of the country where there are colleges and universities. Next to Canada, the United States is the most popular destination for our PhD graduates who seek and obtain tenure stream faculty positions. Twenty-eight of the 193 alumni in faculty positions have or had careers in universities south of the border, representing U of T in twenty-one institutions of higher learning across thirteen states.
Outside of Canada and the US, we have PhD alumni working in colleges and universities in twenty-one different countries. Our graduates have found jobs on all continents except for Australia and Antarctica (but, to be fair, there aren't a lot of opportunities in Antartica). Feel free to browse the map to see the details.
Over the decades, a number of our grads have found employment outside academia
About fifteen percent of U of T graduates forge careers in a variety of professions outside of academia. Fourteen of our graduates since 1978 have found employment in the provincial or federal public service. Another fourteen graduates found positions in the private and non-profit sectors. Others are working in "alternative academic" positions within universities and research centres. Many of the PhD alumni who are working outside of universities have job titles like data analyst, research director, researcher or research associate. There are also a number of consultants who may or may not be using data analysis skills in their daily activities. A very small number of our graduates pursue interesting careers that do not directly draw on sociological training.
Interested in the Specifics? Click on the links below for year by year data on our PhD Alumni
PhD Graduates 2020-2024  PhD Graduates 2015-2019  PhD Graduates 2010-2014
PhD Graduates 2005-2009  PhD Graduates 2000-2004  PhD Graduates 1995-1999
PhD Graduates 1990-1994  PhD Graduates 1985-1989  PhD Graduates 1978-1984